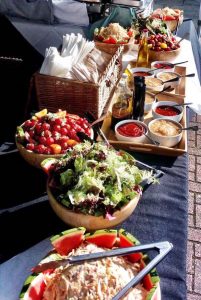 When we started our hog roast company, we were told it would never be popular in Windsor, but we have definitely proved our sceptics wrong! 25 years down the line, we are still going strong and our catering services are growing ever more popular by the day. The key to our success is quality, not only in the ingredients we source and the results we produce, but also the quality of our professional service, our polished menus and our advanced equipment. Quality is the cornerstone of our entire operation, and the Hog Windsor team have dispelled hog roasting's rustic reputation by constantly exceed our clients' expectations with the superior standard of our food and the impeccable level of our service.
Our Varied Menus
We have devised an extensive range of menus to suit all occasions, tastes and dietary needs. We take all of your requirements into consideration when planning the catering your special event and we will always incorporate vegetarian options and gluten-free alternatives into all of our menus, depending on the needs of your guests.
This allows us to provide delicious, well-rounded meals that will please everyone, and we are so flexible in our approach, that we are still a fantastic catering option even if you don't want pork on the menu at all. We can for example, supply roast sirloin of beef, organic chicken or ethically -reared lamb instead of pork, all of which are sourced with the same diligence from the finest local suppliers and prepared with the same care using our classic slow-roasting method.
We can provide any style of food depending on the nature of your special occasion, including 3-course sit down meals for formal wedding receptions, or individually handmade canapes for corporate events.
Hog Roast Catering Team And Equipment
All of our fantastic locally-sourced ingredients are freshly prepared at your chosen venue, including side dishes, salads, canapes and desserts. Our multi-skilled catering team can adapt to any environment, prepare everything perfectly and present the food exactly how you want it at the exact time you want it.
Our superior hog roasting machines allow us the freedom to cook in any outdoor location or indoor venue anywhere in Windsor, and they are not just highly functional, they are also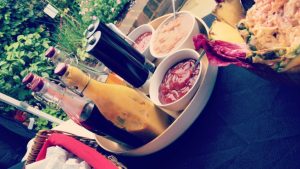 look incredibly elegant and just like our catering team, our machines can fit into any environment, no matter how formal.
We know you can't wait to hear about us and our delicious hog roasts, so why not give us a call!